I first swam in Parker Canyon Lake in September 2, 2012 when I was training for an 8k swim in Lake Mead in October called Slam the Dam (which was the last year the event was held). Unlike a lot of lakes near Tucson and Phoenix in the late summer and early fall that have water temperatures above 80F, Parker Canyon remains in the low to mid-70s due to its 5,400′ elevation and average depth of 82 ft. That makes it an idea place to train – one of my favorite lakes in Arizona! My partner, Alastair, kayaked for me on that long swim. The only other people on the lake that day were fishermen; and at one point a man said to Alastair, "Hmm, she sure has been out here swimming a long time." Yep, I was out there several hours, in the sun and rain…and loved every minute!
Since then, the lake has become a lot more popular with swimmers, kayakers, paddle boarders, and triathletes – it's not unusual anymore to see other people swimming.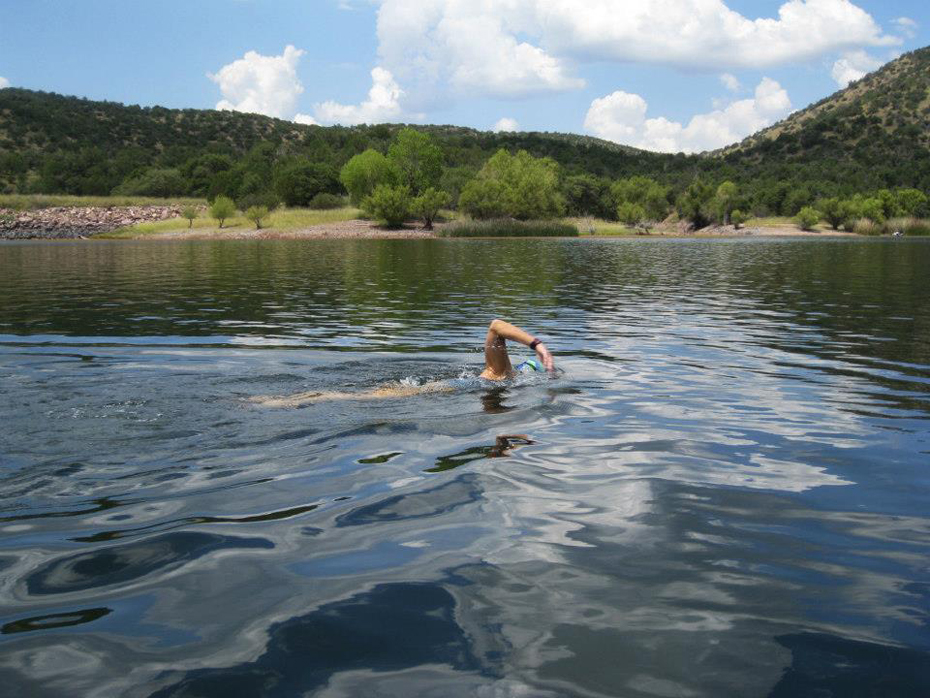 I manage a Facebook group called Southern Arizona Open Water Swimmers, and we often get together for swims at Parker Canyon and Patagonia Lake State Park. It's always a wonderful group of swimmers, ranging from beginners to very experienced Ironman triathletes. I love swimming solo, but it's usually more fun to have friends swimming next to you!