Lake swimming in Arizona is great, but it doesn't compare to swimming in the ocean. I was interested in the Tiki Swim for a number of reasons: it didn't appear to be too hardcore (well, ok…maybe, sort of…I saw a LOT of participants with Ironman bags, T-shirts and hats), based on previous years' results I stood a chance of being on the podium, and it's a great time of year to swim in the ocean! Hey, if you're going to invest your time and energy, why not get the maximum return?
Tiki Swim 7 took place in Oceanside, CA, as part of their two day Harbor Days Festival. The 2.4 mile course started south of the pier, ran north, parallel to shore about a third of a mile out, and finished in Oceanside Harbor ending at the boat launch ramp. Weather and conditions were great, IMO – cloudy, a slight wind from the S/SW, and not a strong current. I did a short swim near the pier the evening before the race. It was heaven! 2-3 foot waves, but clean/clear and wonderful temp (Tiki Swim reported @ 68F, but felt a little warmer to me). There are always things we can't prepare for in an open water swim, but I always check out the area before an event (parking, registration location, general lay of the land, and water conditions/temperature). I considered doing the swim without a wetsuit, but there were other factors involved (here comes the confession).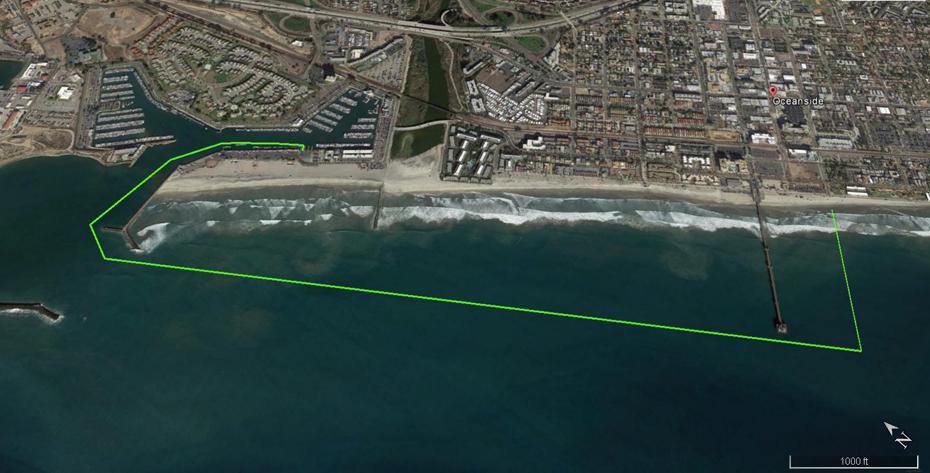 Before I signed up for the swim, I checked the previous years' results in my age group. Ah c'mon…you don't do that?! I also checked the list of participants for this year. There were only 3 in my age group (60+), and I knew one of the swimmers – a woman from Phoenix who is usually faster than me. I went to bed that night wondering about whether to do the swim with or without a wetsuit. Fortunately, at registration the next morning, I ran into her in the bathroom before the race start. We had never met before, but based on her AZ OWS t-shirt and her apparent age I introduced myself and learned she was swimming without a wetsuit. Decision made!
I didn't think it was a difficult swim. I took my time at the start, perhaps too much, but I always feel better if I take it easy at the start of a race, get my breath and my space, and make sure I've got a good sight on the course. Once we got past the Oceanside pier, it was a straight shot up to the harbor entrance. At that point I couldn't see the bottom and never saw any sea life, and only a few times did I encounter pieces of seaweed.  The waves were high enough that I couldn't always see other swimmers, buoys or volunteers on the course, but I always had a sense of where I was based on my distance from the shore. There were a few other swimmers around me, and I occasionally got bumped into, but in general I had a great deal of space around me, so felt very relaxed. Once I got comfortable, I swam as strongly as I could to the finish. The ocean segment was wonderful! The last leg of the swim in the harbor…not so much. That seemed to go on too long, and wasn't any more interesting than a pool swim.
There were 206 swimmers in the 2.4 mile distance. Overall, I was 133 out of 206, finish time 01:19:36…72 out of 98 females…and 1st, and only, in my age group, 60+. I was very happy with my time, given the conditions and my lack of ocean/cold water training. I had a great time, and would do this event again!